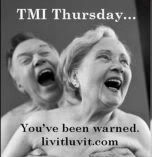 It's TMI Thursday, bitches!! Hosted by the lovely LiLu, as always.

DB and I were talking about sex dreams yesterday. He has them a lot apparently and I have them occasionally. We discussed who we dream about, how often, and whether or not this reflects a true desire for the dreamt person. What do you think, by the way? I'm curious.

Anyways. Here's a peek into our convo:
DB: I don't think the dreams mean anything at all. I mean, I do some pretty fucked-up things when I'm dreaming.
DB:
What? I'm not gonna tell you. It's horrible.
Tay:
Now you've got me interested! You have to tell me.
DB:
Nope. Too disgusting for the girlfriend's ears.
Tay:
Puh-puh... pweeease *insert Taylor's adorable pleading face here*
Tay:
*pause* Ahahahahahaha!!!
(this goes on for about a minute)
(this goes on for the rest of the car ride)

So. Should I be worried?