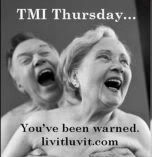 It's TMI Thursday, bitches!! Hosted by the lovely LiLu, as always.
As many of you know, DB and I have been dating for quite a while. I'm extremely comfortable around him and he's just as relaxed around me. However, there is one thing I refuse to do in front of him.


Fart.


I don't fart in front of anybody, not even my family. Especially not in front of DB. I think it's disgusting. Which is actually quite annoying, because I'm a gassy person. Nice, huh? DB calls me out on it all the time.


Tay:
What? No! I'm a lady and ladies don't fart.
So. Now that you know that particularly interesting tidbit about me...


A few weeks ago DB and I were lying in bed, snuggling, after eating a big meal. Everything was perfect and snuggly until my stomach started acting up. I could feel the fart forming in the pit of my abdomen and panicked. I clenched my butt cheeks as hard as I possibly could! There was no way in HELL I was farting on DB while we were spooning.


It took a lot of fucking effort to keep that fart in, and apparently it began to show.


DB:
Woah, baby, your pulse is getting faster.
Tay:
Oh
*clenching with enormous force*
Haha
DB didn't know what was going on and assumed my heartbeat was faster because I wanted to get sexy with him. And so he began touching and kissing and... well, you know.


I freaked the fuck out. There was no way I was having SEX while holding in an enormous FART!


But I did. It wasn't enjoyable, but I got through it. And I held it in, somehow. I politely excused myself after we were finished and let it out loudly in the bathroom. Win!!


I'm still a lady.