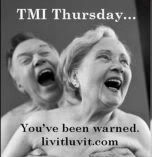 It's TMI Thursday, bitches!! Hosted by the lovely LiLu, as always. Enjoy...
DB:
It's not fair that you get to do what you want [drugs] and I don't get to do what I want [buttsex]!
Tay:
Lol. Fine. But only if you smoke with me.
DB:
Ooh, she drives a hard bargain. I guess I have no choice but to agree!
Tay:
What, really? I'm so excited!
DB:
What? Yesterday you told me you'd rather eat a live mouse than have buttsex.
(it's true)